CSPOWER 6V 200ah GEL Deep Cycle Battery Golf Cart Battery for Crown Cleaning Machine
6V 200Ah HTL6-200High temperature deep cycle gel battery parameters:
HTL6-200

Nominal Voltage

6V (3 cells per unit)

Design Floating Life @ 25ºC

20 Years

Nominal Capacity @ 25ºC

20 hour rate@ 21.0A, 5.4V

200Ah

Capacity @ 25ºC

10 hour rate (37.8A, 5.4V)

180Ah

5 hour rate (66.8A, 5.25V)

159Ah

1 hour rate (233.3A, 4.8V)

115.5Ah

Internal Resistance

Full Charged Battery@ 25ºC

≤3mΩ

Ambient Temperature

Discharge

-25ºC~60ºC

Charge

-25ºC~60ºC

Storage

-25ºC~60ºC

Max.Discharge Current

@ 25ºC 600A(5s)

Capacity affected by Temperature (10 hour )

40ºC

108%

25ºC

100%

0ºC

90%

-15ºC

70%

Self-Discharge@25ºCper Month

3%

Charge (Constant Voltage) @ 25ºC

Standby Use

Initial Charging Current Less than 40A Voltage 6.8 - 6.9V

Cycle Use

Initial Charging Current Less than 40A Voltage 7.2 - 7.45V

Dimension (mm*mm*mm)

Length 306±1 * Width 168±1 * Height 220±1 (Total Height 225±1)

Weight (kg)

30.1±3%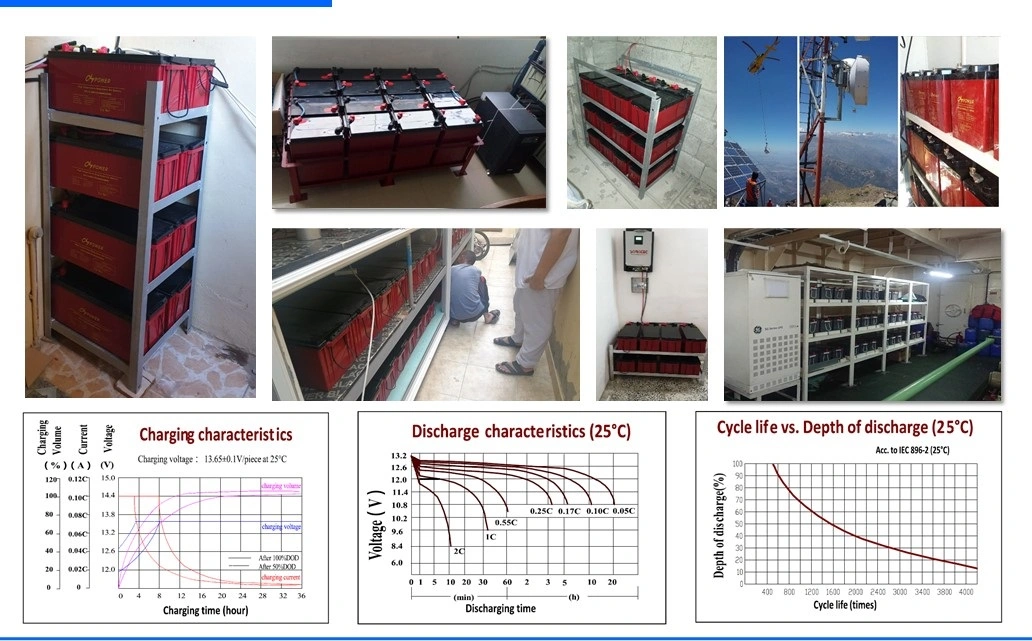 CSPOWER COMPLETE HTL series high temperature deep cycle gel battery LIST
CSPOWER MODEL

Voltage

Capacity

Dimension (mm)

Weight (kg)

Terminal

(V)

(Ah)

Length

Width

Height

Total
Height

(±3%)

HTL6-200

6

200/20HR

306

168

220

225

30.3

M8

HTL6-210

6

210/20HR

260

180

247

252

29.8

M8

HTL6-220

6

220/20HR

306

168

220

225

31.8

M8

HTL6-225

6

225/20HR

243

187

275

275

30.8

M8

HTL6-250

6

250/20HR

260

180

265

272

34.8

M8

HTL6-310

6

310/20HR

295

178

354

360

46.3

M8

HTL6-330

6

330/20HR

295

178

354

360

46.9

M8

HTL6-380

6

380/20HR

295

178

404

410

55.6

M8

HTL6-420

6

420/20HR

295

178

404

410

57.1

M8

HTL8-170

8

170/20HR

260

182

266

271

34.3

M8

HTL8-200

8

200/20HR

260

182

295

301

38.3

M8

HTL12-14

12

14/20HR

152

99

96

102

4.1

F1/F2

HTL12-20

12

20/20HR

181

77

167

167

6.3

T1/L1

HTL12-24

12

24/20HR

166

175

126

126

8.6

M6

HTL12-26

12

26/20HR

165

126

174

179

8.7

M6

HTL12-35

12

35/20HR

196

130

155

167

10.8

M6

HTL12-40

12

40/20HR

198

166

174

174

14.5

M6

HTL12-55

12

55/20HR

229

138

208

212

16.3

M6

HTL12-70

12

70/20HR

350

167

178

178

23.6

M6

HTL12-75

12

75/20HR

260

169

211

215

25.3

M6

HTL12-85

12

85/20HR

260

169

211

215

26.4

M6

HTL12-90

12

90/20HR

307

169

211

216

28.5

M6

HTL12-100

12

100/20HR

307

169

211

216

30.5

M6

HTL12-110

12

110/20HR

331

176

214

220

33.6

M8

HTL12-120

12

120/20HR

407

173

210

233

39.5

M8

HTL12-135

12

135/20HR

341

173

283

288

41.1

M8

HTL12-150

12

150/20HR

484

171

241

241

45.8

M8

HTL12-180

12

180/20HR

532

206

215

220

56.3

M8

HTL12-200

12

200/20HR

532

206

215

220

58.7

M8

HTL12-230

12

230/20HR

522

240

219

225

65.3

M8

HTL12-250

12

250/20HR

520

269

203

207

71.3

M8

HTL12-300

12

300/20HR

520

268

220

226

77.3

M8
HTL series deep cycle gel battery is specially High-temperature sealed free maintenance deep cycle GEL battery with 15-20ys
design life in float service, 30% more than standard Gel battery, and 50% more than Lead Acid AGM battery.
It meets with IEC, CE and ISO standards.With up-dated valve regulated technology and high purity raw GEL materials imported from Germany, the HTL series battery maintains high consistency for better performance and reliable standby service life. It is designed specially for using under high and cold temperature sites.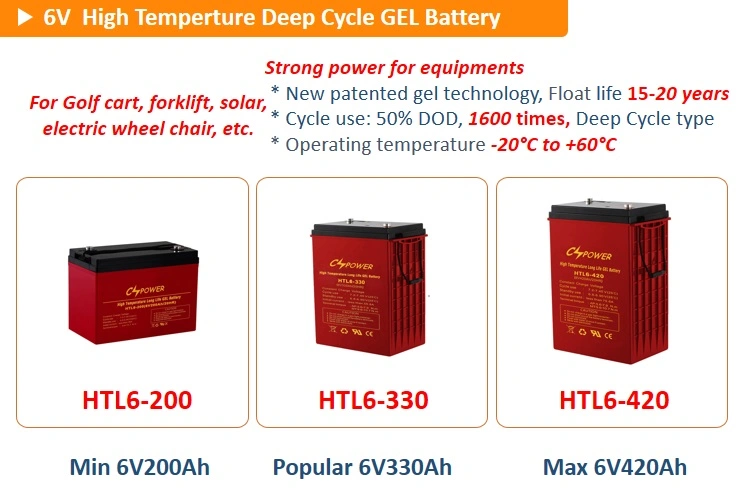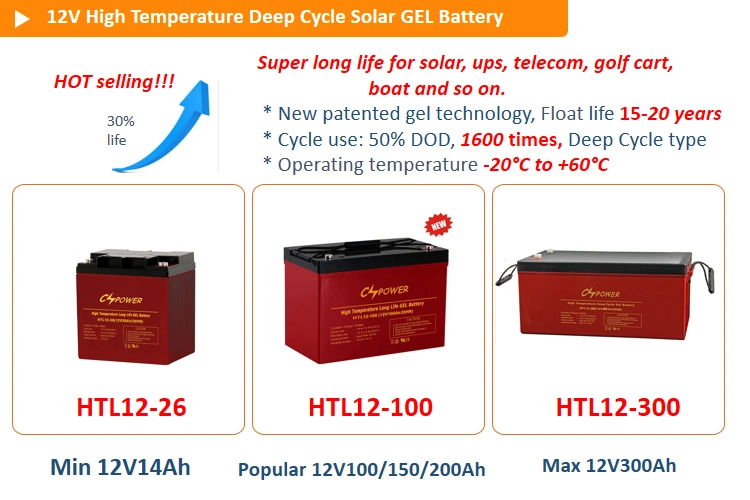 Advantages for HTL high temperature deep cycle gel battery
1. Three years warranty at 35°C-40°C average
2. Able to operate at -40°C to 60°C
3. Longer life and higher stability under high temp. environment (Perfect to be applied to renewable energy system or hybrid power system at tough condition.)
4. Adopt Super-C additives lead plates: Deep discharge recovery capability
5. Deep Cycle usage: 50% DOD, 1500-1600 Cycles work in high/cold temp. area.

Construction for Deep cycle Solar gel battery
1. HTL deep cycle gel battery adopts super corrosion-resistant alloy and unique patented grid structure, so can improve the lead plates corrosion-resistant performance in high temperature.
2. It adopts special positive negative lead plates ratio and unique nano gel electrolyte, so can improve battery overpotential of hydrogen evolution effectively and high reduce the water loss in high temperature environment.
3. Its paste formula is added anti-high temperature expanding agent, so can work continuously in high temperature environment.
4. HTL battery's shell adopts anti-high temperature ABS material, so the battery inside will not be over heat lead to water loss because of high temperature environment, ensure the battery super long life and the shell will not swell even use in extreme high temperature area.
5. HTL series adopts patented gel electrolyte by nano-meter fumed silica, which advantage is high heat capacity and excellent heat release performance, can avoid the thermal runaway problem of normal battery, and discharge capacity can increase by over 30% in low temperature area. So HTL battery can work very well in severe environment between -40ºC-65ºC.
6. Its formula is added special super expanding agent which ensure battery discharge capacity is higher than other normal battery when work in low temperature, thus even HTL battery work in -40ºC area, it can work stable and continuously.



COMPLIED STANDARDS -- GEL battery 12V
1. IEC 60896-21/22
2. IEC 61427
3. ISO9001/14001/18001
4. Eurobat guide, long life
5. BS6290 part 4
6. GB/T 22473
7. CE
8. UL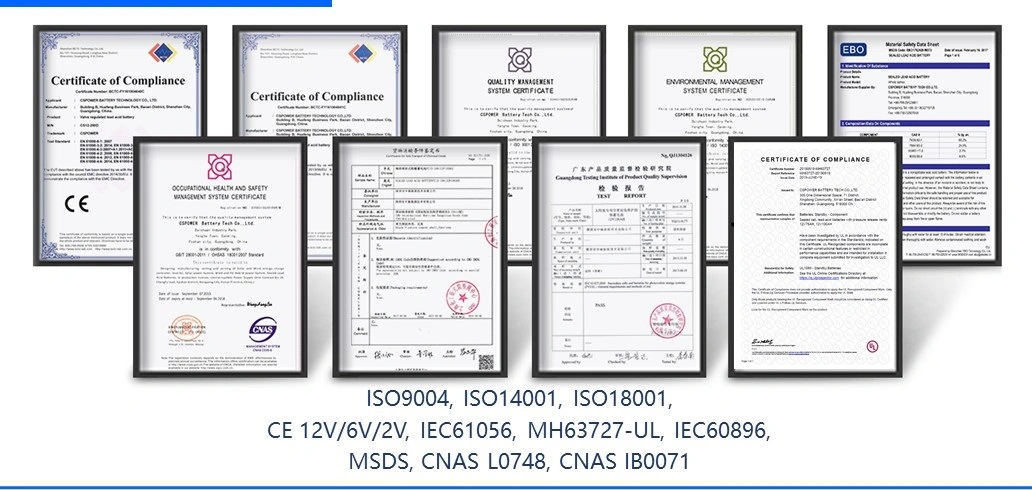 Chinese best quality Solar GEL Battery Applications:
Communication equipment, Telecommunication control equipment; Emergency lighting systems; Electric power systems; Power station; Nuclear power station; Solar powered and wind powered systems; Load leveling and storage equipment; Marine equipment; Power generation plants; Alarm systems; Uninterruptible power supplies and stand-by power for computers; Medical equipment; Fire and security systems; Control equipment; Stand-by electric power.
Electric Powered Vehicles,

Pumps

Golf Cars and Buggies, Tour bus, Sweeper, Floor cleaning machines, Wheel Chairs, Power Tools, Electric Powered Toys,

Control System,

M

edical Equipments,

UPS and Inverter systems,

Solar and Wind, Servers,

Telecom, Emergency and Security systems,

Forklift, Marine and RV, Boat and so on.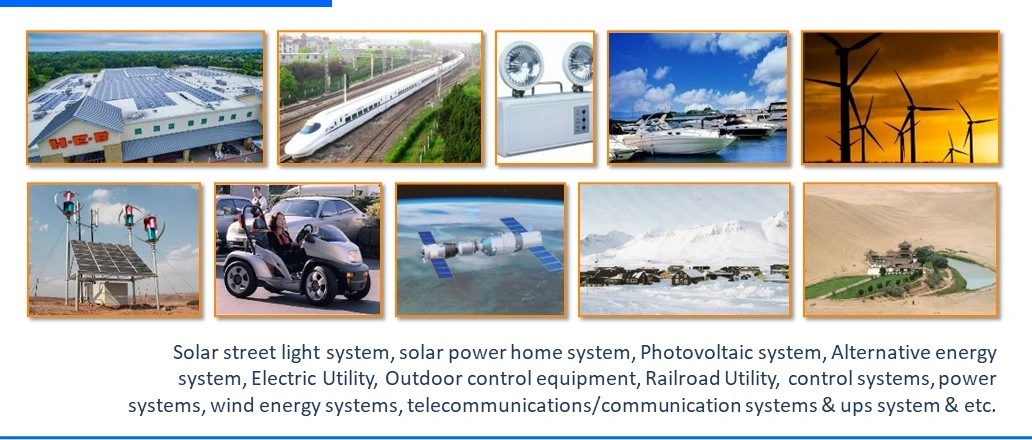 CSPOWER VRLA Solar Deep Cycle Gel Battery for Power Storage, HTL 6V Factory Pictures

CSPOWER BATTERY TECH CO.,LTD is a professional manufacturer and exporter of environmental friendly Rechargeable Deep Cycle AGM Sealed Lead Acid (SLA) Batteries, Solar GEL Batteries, Front Terminal Battery, High Temperature long life GEL battery, OPzV Battery, Car/Auto Batteries, Telecom Batteries, Lithium batteries and other Solar related products such as Solar inverter, Solar charger controller, Solar panel and so on.
Incorporated in 2003, CSPOWER has steadily expanded to approximately 1000 employees which include an experienced management team supported by a team of highly committed technical and manufacturing workers.
Located in a world-class, modern industrial park of 50, 000 square meters in Guangdong, China, CSPOWER's top of line facilities produce an annual capacity of approximately 2, 000, 000kVAh.
CSPOWER batteries are classified into two categories: Valve-Regulated Lead Acid Battery and GEL Battery. The VRLA battery includes UPS inverter AGM battery, Solar Deep Cycle battery, Telecom Front terminal battery, long life span over 10years; The GEL Battery includes Solar Gel battery, High temperature long life Gel battery, OPzV Tubular Gel battery, longer life span 15-25years mainly for solar and wind power system.

With the continuous innovation and pursuit of perfection, CSPOWER has own professional Quality Management System since established. We have successfully got the certificates of ISO9001 quality management system, ISO14001 environment management system, and passed the audit of OHSAS 18001. Also, we have received various product quality recognitions, like UK's IEC 60896, CE authentication of the European Union, RoHS, ISO9001, and TLC certificates in China.
In domestic market, our main customers include China Mobile Limited & Unicom Limited, ZTE Corporation, Delta Electronics Inc, Huawei Technologies, APC, Eaton and so on. And for overseas market, we have exported to over hundreds of countries such as: USA, Brazil, Italy, Greece, Germany, Spain, Russia, Iran, Korea, Thailand, South Africa, Nigeria, etc.

CSPOWER is competent at ODM and OEM orders according to customers realtime request.
Please come to us for your only reliable battery and solar partner in China today.

Welcome OEM brand service to us, it's freely



CSPOWER BATTERY CUSTOMERS




Why choose Cspower?
1) Nearly 16 years leading manufacturer,established in 2003. Factroy size: 50000 square meter
2) Strict management system and quality control, 100% inspection.Factories are satisfied with ISO 9001 & ISO
14001, products with CE/RoHS/TLC etc approval.
3) A professional experienced team to provide you high-quality service.All enquires will be replied in 24 hours.
4) Competitive price help you to occupy more market share
5) 20000KWH production capacity to guarantee the best deliver time
6) 1-3 years warranty policy, up to now, our product defective rate is under 0.4%.
CSPOWER'S PROJECTS AROUND THE WORLD

Since 2003, CSPOWER start the research and produce sealed free maintenance AGM and GEL storage batteries. Our batteries are always in the process of innovation according to market and environment: AGM battery→GEL battery→High Temperature Long Life Deep Cycle GEL battery. Cspower with 17 Years Rich experience in battery manufacturing; Become a leading manufacturer of deep-cycle batteries in China.

Obtained many large-scale projects in the industrial, renewable energy and special power markets to provide high-quality and most innovative batteries.
The world's top companies, no matter how harsh the environment, how demanding equipment requirements. You can rely on Cspower batteries to beat the competition.

2016 We have got battery orders for Indonesia government project!
OPzV Series tubular GEL Battery, Floating lifes 20-25 Years, 50%DOD, 3300Cycles
OPzV2V-1000AH 1200 pcs, first order 976pcs first. A total of 2176 pcs, 7 Contaniers.
Their purchasing manager came to our factory to visit us. And they highly appreciate Cspower Battery.

Since 2017, Cspower Battery has been supplying solar-powered street lights for rural areas in Dubai, UAE.
Renewable energy is everywhere in our lives. Durable and sustainable Cspower deep-cycle batteries can be used as any solar/photovoltaic even in the harshest environment. , The perfect complement for small wind power and micro hydropower applications. Cspower battery-reliable uninterruptible power supply.

2018 A family company with a long history and high quality from Australia chose to cooperate with Cspower Battery to jointly develop the Australian Storage battery market.
The Cspower battery factory provided the company with a full range of advanced deep-cycle gel batteries.
Since August 2017, the company has purchased 6 containers from us, mainly HTL 6V 8V for golf carts/EVs, and a small amount of HTL 12V high temperature deep cycle gel batteries for solar energy, 50% DOD reaching 1500cycle Times. Floating life 15-20 years
They sell very well, and come to our company to negotiate face-to-face long-term development plans with us. We sign a long-term business contract.

2018 Cspower battery has obtained the new telecom base station project established by Nigerian communication operators.
We provide efficient, stable and reliable backup power supply and provide power guarantee for 45% of the company's base stations.
FL series VRLA Telecom GEL Battery, Floating life 12-15 Years, widely used as a backup power source for various communication and signal systems such as telecommunications, China Mobile, China Unicom, railways, ships, etc., professional telecommunications batteries.

2019 An eco-tourism resort in northwestern Brazil, and with the Cspower battery engineer team worked together to design an off-grid photovoltaic system for the resort.
This solar-based renewable energy solution consists of a 85-kilowatt battery photovoltaic system, which produces enough electricity to meet 100% of the electricity demand of the resort. The electrical energy produced by thin-film photovoltaic modules is stored in 500pcs Cspower deep-cycle industrial batteries.

We have many similar projects in South America, Brazil, Chile, Peru, Ecuador, Colombia, Argentina, Bolivia etc..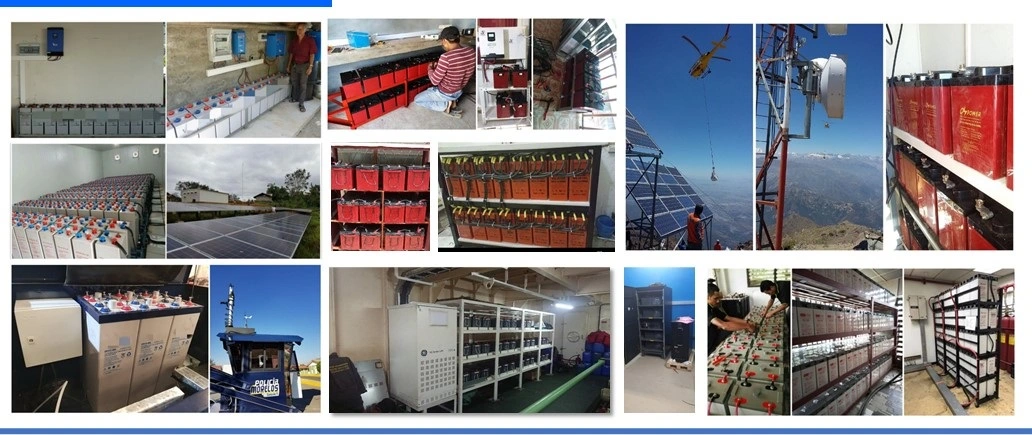 Any questions for our batteries, please feel free to contact us any time. We'd do our best to support you always.

CSPOWER BATTERY FAQ:
Ø Q1. Can your battery be delivered by sea and air?
A: Yes, our batteries can be delivered both by sea and by air. We have MSDS, test report for safe transport as non-dangerous products.
Ø Q2. Can I put my logo on the battery?
A: Yes, you can print your logo on our batteries Freely.Welcome to share us your logo design.
Ø Q3. Can I fast charge my battery?
A: Fast charging is not recommended as its harmful for the battery.
Ø Q4. How about your delivery time usually?
A: About 7 days for stock products, around 20 days for half container products, 30 days for 20ft full container products.
Ø Q5. Are you a battery manufacturer, and do you produce the plate by yourself ?
A: Yes, we are a professional battery manufacture in Guangdong Province, China. And we produce plates by ourselves.
Ø Q6. What certificate your company have?
A: ISO 9001, ISO 14001, OHSAS 18001, CE, UL, IEC 61427 test report, Patent for gel technology and other Chinese honor.
Ø Q7.What is your warranty time for VRLA battery ?
A: It depends on battery capacity, depth of discharge, and battery usage. Please kindly contact us for accurate information based on detailed requirements.
Ø Q8. Why battery has different capacity at different hour rate?
A: The capacity of a battery, in Ahs, is a dynamic number that is dependent on the discharge current. For example, a battery that is discharged at 10A will give you more capacity than a battery that is discharged at 100A. With the 20-hr rate, the battery is able to deliver more Ahs than with the 2-hr rate because the 20-hr rate uses a lower discharge current than the 2-hr rate.
Ø Q9. What is the shelf life of VRLA battery and how to maintain the battery?
A: The limiting factor of battery's shelf life is the rate of self-discharge which itself is temperature dependent. VRLA batteries will self-discharge less than 3% per month at 77° F (25° C). VRLA batteries should not be stored for more than 6 months at 77° F (25° C) without recharged. If in hot temperature, recharge it every 3 month. When batteries are taken out of long storage, it is recommended to recharge before use.
Ø Q10. How does your factory control the quality?
A: We Adopt ISO 9001 quality system to control the quality. We have Incoming Quality Control (IQC) department to test and confirm raw material meets high quality producing requirements, Production Quality Control (PQC) department contains The first Inspection, In-process quality control, acceptance inspection and full inspection, Outgoing Quality Control (OQC) department confirm no defective batteries come out from the factory.



CSPOWER Battery Tags:
lead acid battery, AGM battery, GEL battery, valve regulated lead acid battery,VRLA battery, SLA battery,Maintenance free battery,sealed lead acid battery,rechargeable lead acid battery,lithium-ion battery, LiFePO4 Battery

2V battery,long life gel battery,battery pack ,12V battery, battery for 48v system,6V solar ups battery

deep cycle deep acid battery, backup energy battery, deep cycle solar battery,solar panel battery,solar power storage battery,solar battery,home use storage battery

marine battery,telecom battery, UPS battery,industrial battery,automotive battery, spiral lead acid battery,starting lead acid battery, forklift battery,emergency lighting battery,Electric Vehicle batteries,Electric Wheel Chair battery, Power Tools battery
For more information,please kindly visit our website:
cspower.en.made-in-china.com.