vineyard hedge trimmer line 910 Telescopic loader for spring agriculture

Loader description:
STEEL CAMEL Hedge trimmer wheel loader is a very high cutting quality machine, which is equipped with an uncomplicated cutting bar for mowing of hay, grass and trimming of bushes,hedges, etc. Guide plates under the bar support the cutting blades when mowing. Cutting angle can be adjusted below ground level, mowing of slopes is also possible.

Compared with other Chinese wheel loaders, STEEL CAMEL loader is more compact size, better mobility in very tight space and narrow indoors.

With Perkins/Yanmar/Kohler engine, 4 independent hydraulic wheel motors, flexible articulation, STEEL CAMEL loader is powerful and better through capacity on all rough tarrain.

Hydrostatic transmission, quick hitch and coupling system, telescopic boom, differential speed, joystick control...all these features make STEEL CAMEL loader easier and more smooth to operate.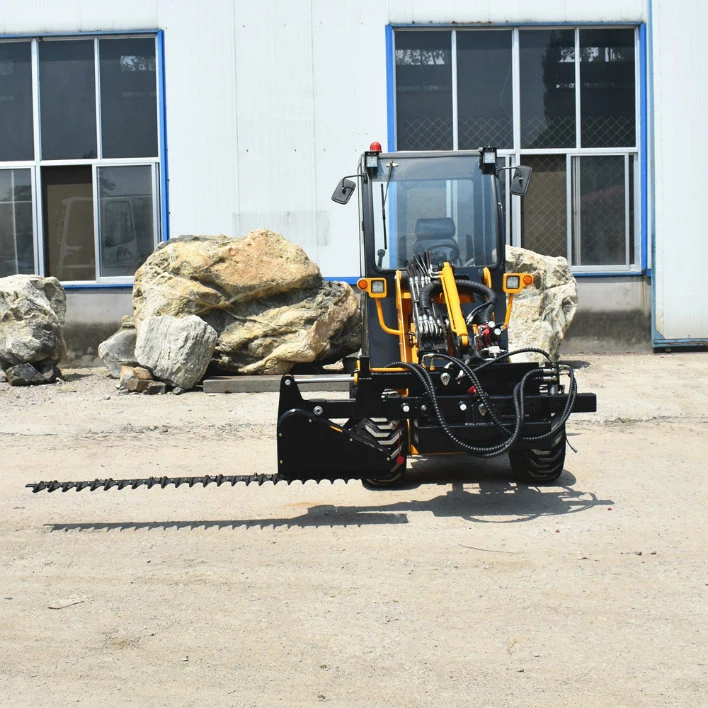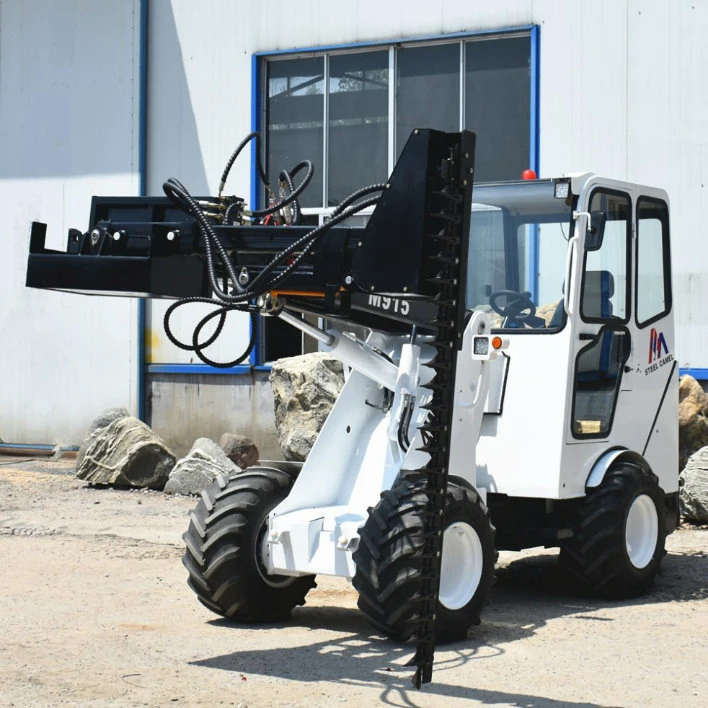 Loader features:
M910 small telescopic loader adopts independent driving and working system, can give big output at low driving speed.

Strong Power:
--Oversea famous brand diesel engine, Perkins, Kubota, Yanmar, etc.
--Twin pump for working device, max. output 67l/min.
--Hydrostatic transmission, each wheel has a hydraulic motor, always 4 wheel drive.
--Italian piston pump offers stable flow and pressure to the driving motors.

Operating Safety:
--General design and equipments follows the european machinery directive, CE approved;
--ROPS/FOPS cabin, operating seat with safety belt well protect the driver;
--Cylinder protection prevent the boom from drop when mainteance;
--Safety support rod when tilt the cabin

Fantastic Motility:
--Flexible articulation guarantees all the 4 wheels touching ground and have traction force in all terrain, powerful and strong;
--Max. 1240mm width, can pass through narrow space amony trees or other limited spaces;
--Min. 2120mm turning radius, can turn smartly in home garden, small farm, etc.

Easy Operation:
--STEEL CAMEL loader has humanzied design for operating, the driver has full control of all movements free and easy.
--Multifunction joystick, the operator has full control to all working action just by one hand;
--Steering wheel with ball, one hand control the loader's turning;
--Forward/Reverse two foot pedal control the loader's driving;
--Hydraulic quick coupling, changing attachments do not need to get off the loader

Easy maintenance:
--STEEL CAMEL loader devoted to offer best user experience, we do not only concern performance, but also easy maintenance
--Tiltable cabin gives full access to the complete inside structure of the loader, and it can be done in one minute just by your hands.
--The full control system is just under a bolted on side cover, and all the bolts are just outside to your hands

Multi function for various needs:
--Telecopic boom increase the reach of camel loader to 3m, enable it to some jobs which out the reach of normal boom loader;
--Front hydraulic output together with the quick coupling system, with hundreds of attachments can be a loader, forklift, mower, log grapple, etc.
--Rear hydraulic output and 3 point linkage, can be used as a tractor.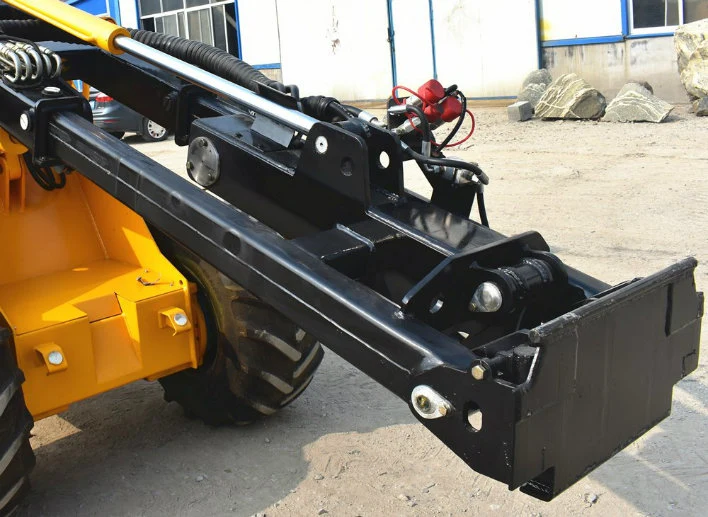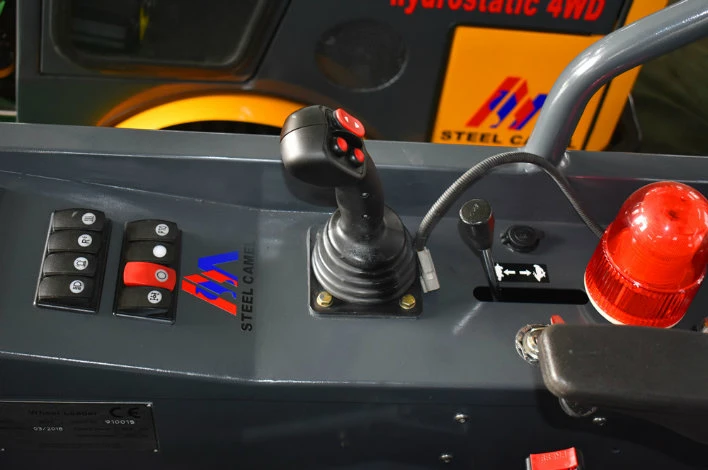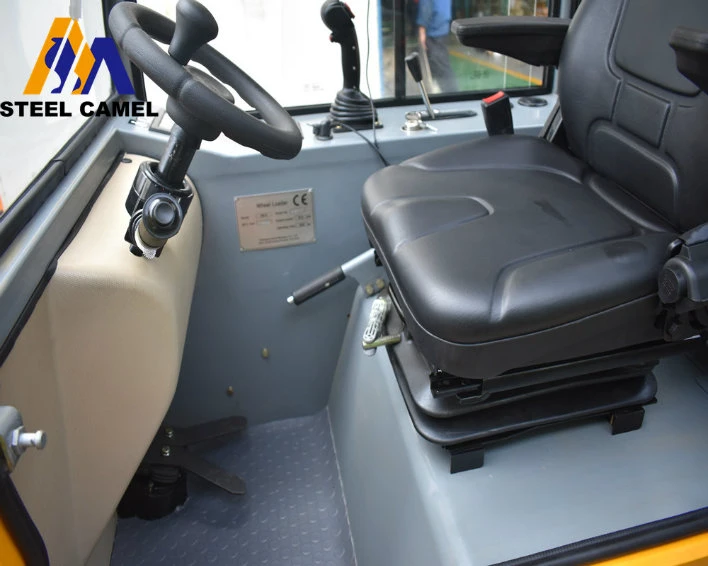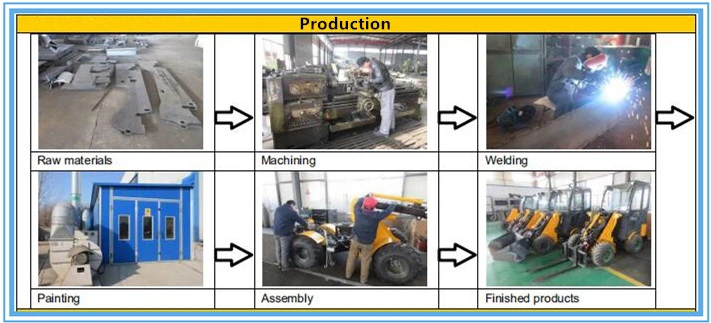 Loader technical data:
Model

M910

M915

M920

Dimension

with cabin

(LxWxH)

2690

x

1

30

0

x

2285mm

3400x1500x2300mm

3650x1500x2350mm

Max.lifting height

(boom retract

)

2512

mm

3000mm

3200mm

Max.lifting height

(boom extend

)

3030

mm

3562mm

3900mm

Pulling force

12kN

18kN

19kN

Bucket capacity

0.5cbm

0.8cbm

1 cbm

Max.

loading capacity

1

0

00kg

1500kg

2000kg

Min. turning radius

2120mm

2800mm

3100mm

Turning angle

45

0

45

0

45

0

Min. ground clearance

268mm

330mm

330mm

Speed

0-1

0

km/h

0~12~24km/h, two speed

0~12~24km/h, two speed

Operating w

eight

1

85

0 kg

2300kg

2600kg

Standard tire

26X12-12

31X15.5-15

31X15.5-15

Tire pressure

2.8 bar

2.8 bar

2.8 bar

Oil tank capacity

45L

80L

80L

Pressure

190bar

190 bar

190bar

Working oil flow

33.5L/minx2

41L/min x 2

50L/min x 2

Tracking oil flow

78L/min

120L/min

120L/min

Oil model(mineral oil)

L-HL46

L-HL46

L-HL46

Fuel tank capacity

30L

42L

52L

Battery

60Ah, 12V

60Ah, 12V

60Ah, 12V

Engine

Perkins

/Yanmar

Perkins/Yanmar/Kohler

Yanmar/Kohler/Chinese

Rated power

33hp

50hp

68hp-74hp
Loader+Tractor, one Multi-purpose helper for all your works
Front part is loader, with telescopic boom, hydraulic output, quick hitch and coupling system for various attachments, like bucket, fork, grapple, auger, hammer, lawn mower, etc.
Rear part is tractor, with hydraulic output, 3-point hitch, hydraulic PTO, for rotary tiller, flail mower, plough, harrow, trailer, etc.
STEEL CAMEL series machines are widely used in farming, agriculture, landscaping, gardening, construction, municiple, etc.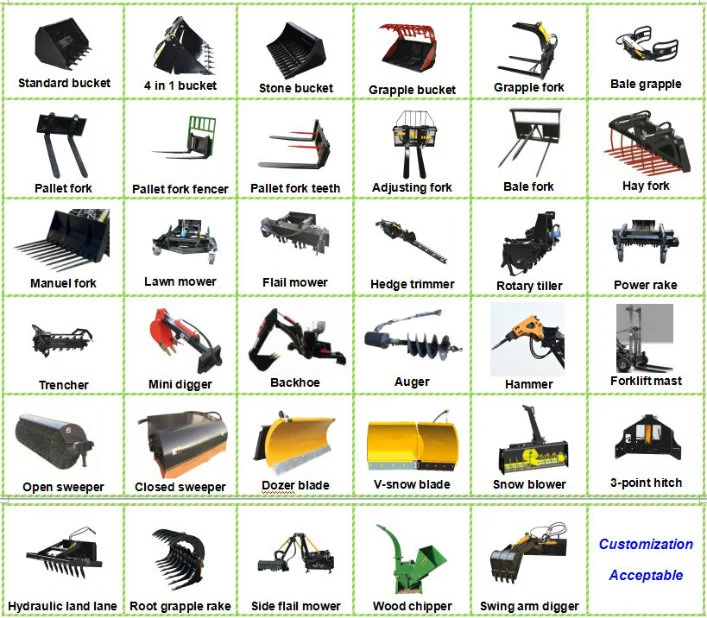 Contact now to get a detail quotation:
HONEST MACHINERY company is of manufacturing experience since 1980s.
The advanced engineers can design and customize high quality machines, which have been exported to Poland, UK, Australia, Indonesia, USA, Canada, Argentina, chile, etc.
The experienced sales team offer quick feedback, well-regulated orders, timely after-sale services, etc.