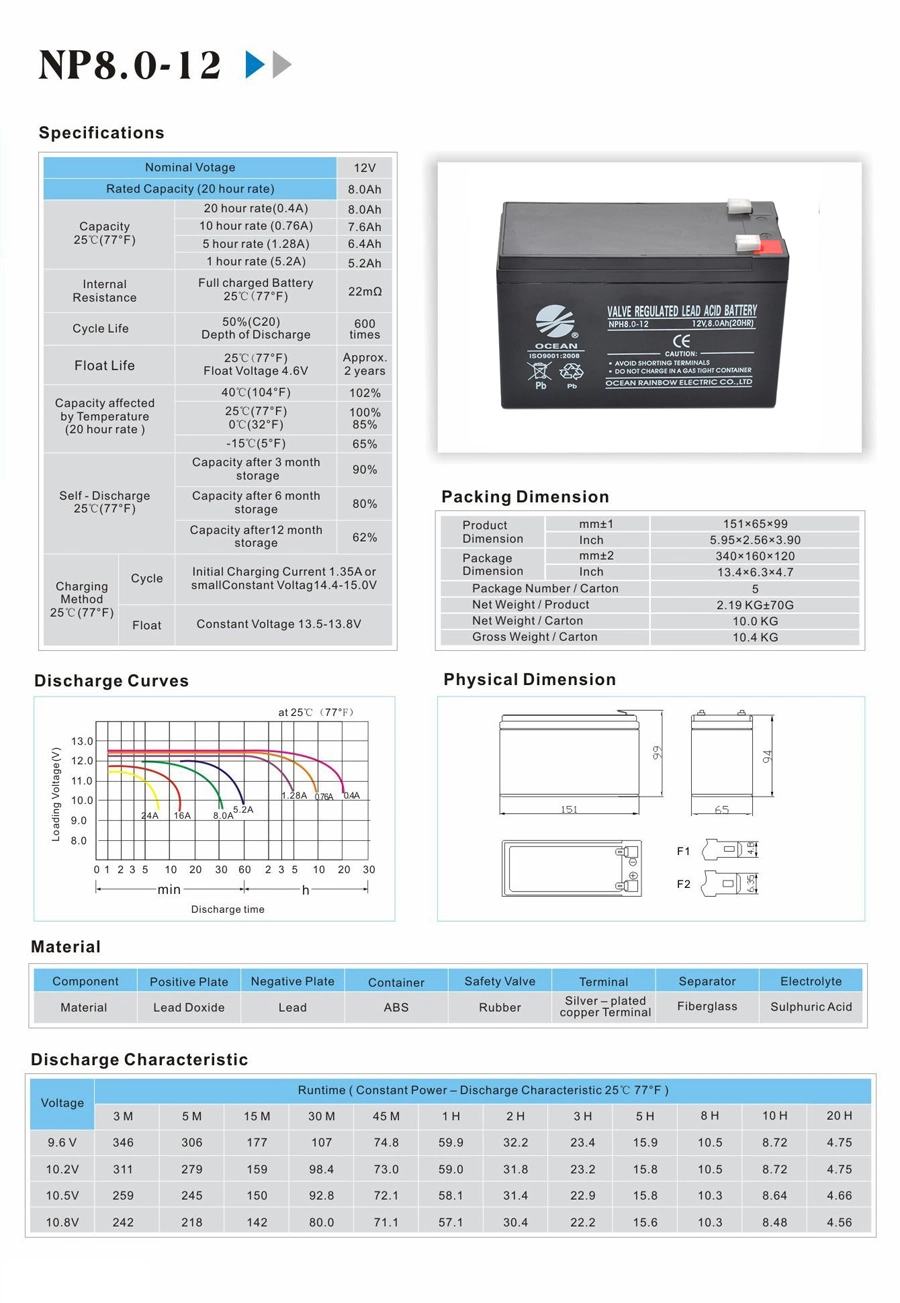 Applications:
Solar and wind Powe System
Cable TV
Telecommunications
Wheelchair
Marine Equipment
Electrical Toys

Military Equipment
Emergency lighting
Power Plants
Medical Devices
Golf Cart
Emergency Alarm Systems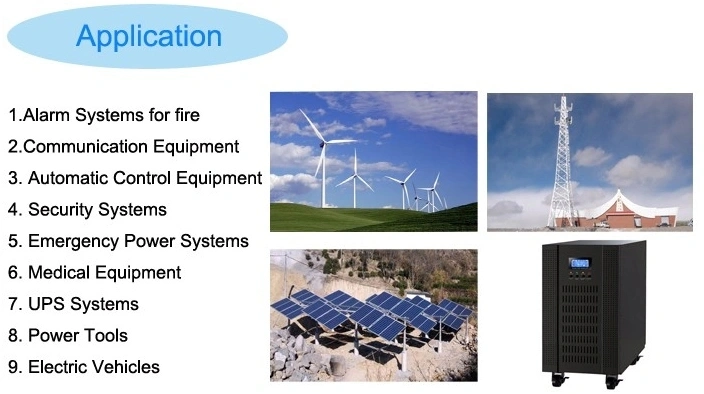 Battery Use and Maintenance:
1) Please use constant-voltage charge.
2) In floating charge, the voltage is 2.23 to 2.27 per unit cell.
3) In cycle use, the voltage is 2.35 to 2.45 per unit cell, the max. Current is no more than 25%° C
4) Please do tighten the bolts to avoid sparkle and poor contact when the battery is in use.
5) Please do not use it near the heat source and open flame.
6) Please keep it at low temperature. Please change it while there is liquid leaking or damage.
Q1: Are you a battery manufacturer, and do you produce the plate by yourself ?
A: Yes, we are a professional battery manufacture in Foshan city, Guandong, China. And we produce plates by ourselves.
Q2:How about your delivery time usually?
A: About 7 days for stock products, around 20 days for half container products, 30 days for 20ft full container products
Q3: What certificate your company have?
A: ISO 9001, ROHS, OHSAS 18001, CE, UL, IEC 61427 test report, Patent for gel technology and other Chinese honor.
Q4 :What is your warranty time for VRLA battery ?
A: It depends on battery capacity, depth of discharge, and battery usage. Please kindly contact us for accurate information based on detailed requirements
Q5. Can your battery be delivered by sea and air?
A: Yes, our batteries can be delivered both by sea and by air. We have MSDS. test report for safe transport as non-dangerous products
Q6. Can I put my logo on the battery?
A: Yes. you can print your logo on our batteries when you order reach 20ft container quantity. If not. price will be negotiated
Q7. What is the shelf life of VRLA battery and how to maintain the battery?
A: The limiting factor of battery's shelf life is the rate of self-discharge which itself is temperature dependent. VRLA batteries will self-discharge less than 3% per month at 77° F (25° C). VRLA batteries should not be stored for more than 6 months at 77° F (25° C) without recharged if in hot temperature, recharge it every 3 month When batteries are taken out of long storage, it is recommended to recharge before use
Q8. Can I fast charge my battery?
A: Fast charging is not recommended as ifs harmful for the battery
Q9. Why battery has different capacity at different hour rate?
A: The capacity of a battery, in Ahs, is a dynamic number that is dependent on the discharge current. For example, a battery that is discharged at 10A will give you more capacity than a battery that is discharged at 100A. With the 20-hr rate, the battery is able to deliver more Ahs than with the 2-hr rate because the 20-hr rate uses a lower discharge current than the 2-hr rate.
Q10. Can I do a partial replacement of my batteries?
A: Partial battery replacement of lead acid battery banks are not recommended
Q11.How does your factory control the quality?
A: We Adopt ISO 9001 quality system to control the quality. We have Incoming Quality Control (IQC) department to test and confirm raw material meets high quality producing requirements, Production Quality Control (PQC) department contains The first Inspection, in-process quality control, acceptance inspection and full inspector), Outgoing Quality Control (OQC) department confirm no defective batteries come out from the factory.
Q12. What is your terms of payment?


A: T/T 30% as deposit, and 70% before delivery. We'll show you the photos of the products and packages before you pay the balance.
Q13. What is your terms of delivery?


A: EXW, FOB, CFR, CIF, DDU.